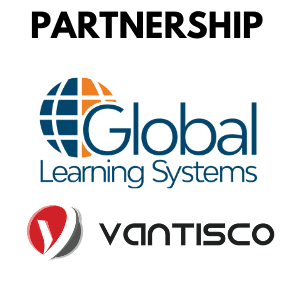 VANTISCO ANNOUNCES PARTNERSHIP WITH GLOBAL LEARNING SYSTEMS
Vantisco today announced a new partnership with Global Learning Systems. This partnership will allow Vantisco to resell Global Learning Systems products that include: Award-winning Cybersecurity Training, SecureGenius® Assessments, Phishing Simulation Tool, and OnDemand Learning Management System with Premium Features including an Assessment Builder Tool (ABT& Editing Tools).
This partnership will put Vantisco ahead of its competitors, benefitting from the 30 years of experience that Global Learning Systems has in providing employee security awareness and compliance training programs, supported by their OnDemand Learning Management System and phishing simulation tool," says Vantisco CEO.
Vantisco will work with Global Learning Systems to promote cybersecurity behavior change that protects your organization and Strengthens Your Human Firewall.®
About GLS: Global Learning Systems provides security awareness and compliance training programs for employees that effectively promote behavior change, protect your organization and Strengthen Your Human Firewall®. In addition to carefully tailoring program materials to client needs, GLS offers an online learning platform, phishing simulation tool, courseware customization and high-touch customer service. GLS is the proud recipient of numerous industry awards, including being recognized for 5 consecutive years in the Gartner Magic Quadrant for Security Awareness Computer Based Training.
For more information about Global Learning Systems, visit its website at https://www.globallearningsystems.com/
About Vantisco: Vantisco is a leading IT Services, Digital Marketing and Training Company located in Milan, Italy. Our Training Delivery Mode: Self-Paced Training, Instructor Led Live Online Training, On-premise classroom Training and Corporate Customized Training.
For more information about Vantisco, visit its website at https://vantisco.it/ and https://academy.vantisco.it/